Ashland Senior High School students protest in downtown Ashland, Oregon.
Courtesy of Nicole
Every few weeks, about a dozen teens gather in their classmate Bella's living room in Ashland, Oregon. Like the members of the Breakfast Club who came 15 years before they were born, they're from different cliques: The group mixes jocks with nerds, kids who've never been in trouble and those who have, gay and straight. They watch movies, order pizza, hang out, and talk about the thing that brought them together: sexual assault.
Some of the group members were abused as little kids, while others were sexually assaulted in high school by people they still see around town. They keep the membership private, because some still haven't told their other friends that they were victimized. When they have a rough day, the group, which these teens call the "Survivors Circle," is only a few thumb-taps away on a constant Facebook Messenger group chat.
"Even with people that I or others have had trouble with in the past, [they all] are so accepting and kind," said Bella, 16, who is the Circle organizer. "I've seen lots of change in some personalities from when I last knew them and now. Crazy how much something like this alters your entire being."
Bella brought about that change, turning her frustration with how Ashland High School dealt with her sexual assault report into activism that galvanized her classmates and forced the school district to overhaul its approach to sexual violence. And she did it with little more than help from friends and guidance from a single advocate at a local rape crisis center.
Combatting sexual violence among teens hasn't gotten nearly as much government attention as college sexual assault has.
"What we have seen in this case is some very private people who felt so strongly that the system could be better — and should be better — for the people who come next that they were willing to step very far out of their comfort zone in order to bring about some change," said Susan Moen, executive director of the Jackson County Sexual Assault Response Team. "The level of support that survivors who are coming forward now at the high school, the level of support from peers, is something I have never seen before."
Over the past few years, student activism has pushed the US government to crack down on how colleges handle sexual assault cases, prompting a sixfold increase in federal Title IX investigations of campuses. Meanwhile, the rate of K-12 schools being investigated for the same problems has grown at the same rate, from 23 in July 2014 to 141 today, yet combatting sexual violence among teens hasn't gotten nearly as much government attention as college sexual assault has.
Civil rights groups had hoped the government would increase pressure on high schools to better handle sexual violence. That was the assurance they got from Obama-era federal officials who expected a Hillary Clinton win. But those same groups now assume Donald Trump's administration will scale back Title IX enforcement, which would leave students like Bella to pursue justice on their own. And as successful as Bella has been, it's unclear whether her story offers a new way forward on Title IX that could replace government intervention with grassroots action, or if it'll only work in liberal towns, like Ashland, that are receptive to these concerns.
"These success stories are an incredible testament of the power of student organizing," said Alexandra Brodsky, who co-founded the activist group Know Your IX. "But I also think you shouldn't have to be a Bella to be treated fairly by your school. There's a tremendous cost to this kind of activism."
An aerial view of downtown Ashland, Oregon.
Al Case / Flickr / Creative Commons
Ashland is a town of 21,000 people and home to Southern Oregon University, its largest employer. It's a mostly white, progressive place where recreational marijuana is legal, the biggest tourist attraction is the town's annual Shakespeare festival, and many liberal parents don't vaccinate their kids.
The town has also drawn national praise for how the Ashland Police Department approaches campus rape investigations. In 2013, Ashland PD established the You Have Options Program, which was built off of feedback from sexual assault survivors and has been praised for coordinating between police, advocates, and social workers. The program has encouraged more victims to come forward, doubling the number of reports in town. In short, the program does what its name says: connects victims with confidential advocates who explain what their paths are, including their rights under Title IX for students.
On March 1, 2016, a school employee overheard Bella crying in the hallway and asked if she wanted to report something. After Bella told administrators she'd been sexually assaulted off campus a couple months earlier by a classmate, they called police. The cops then followed the You Have Options protocol and called Moen. She told Bella and her parents about Bella's options under Title IX, including the right to demand that the accused have no contact with her and the requirement that the school conduct an investigation.
"I left to go get ice cream with friends and by the time I came back, 100 people had responded."
"Susan told me, 'If we're going to push for [an investigation] you need to get educated on this,' so that's what I did," said Jenn, Bella's mother, who did midwifery at the Standing Rock protests last fall. "We looked up Know Your IX and all of the other Title IX sites."
The school wrapped up its investigation at the end of April 2016. It found that Bella had told the boy before the incident that there would be no touching below the waist, and that there was a "preponderance of evidence" that he had "exceeded set boundaries." Administrators ducked whether the accused student was guilty of sexual misconduct, writing in a letter that there wasn't enough evidence to prove he violated Bella "intentionally," though he told Bella in a Facebook message after the incident that he "messed up." The accused student was ordered not to be at school when Bella was in class, instead doing off-campus tutoring and only coming to Ashland High when he had permission from the school so that Bella could be warned ahead of time. But Bella kept spotting him on campus, and her mother, Jenn, demanded in at least six emails that the school enforce its order.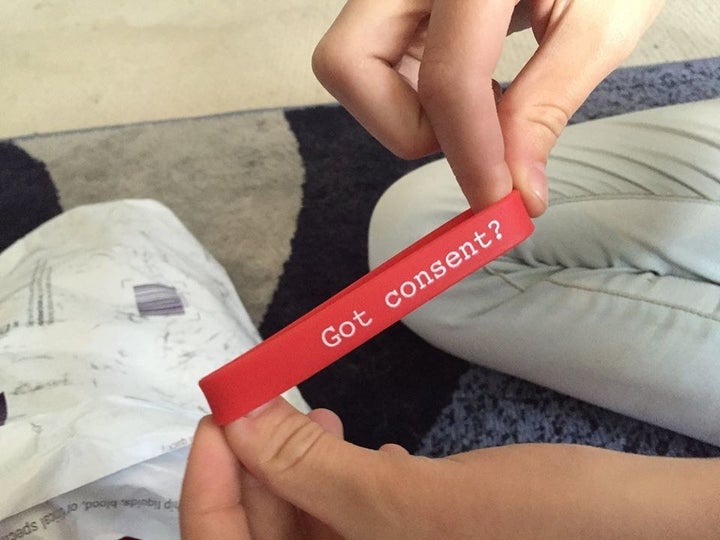 "Got Consent" wristbands.
Courtesy of Jenn
In September, after months of complaints from Bella's family, the district conducted a second investigation, led by someone who handles these cases at Southern Oregon University. School documents reviewed by BuzzFeed News show that the second inquiry reached the same conclusion as the first and recommended the sanctions be left in place. The boy's parents insisted he was innocent and transferred him to another school.
By then, Bella had started channeling her energy into activism. In May, frustrated that the school was not preventing her alleged attacker from coming on campus, she had put up a Facebook post asking if anyone else would join her in wearing shirts to school that read "Got Consent?"
"I left to go get ice cream with friends and by the time I came back, 100 people had responded," Bella said. "It blew up really, really quickly."
Motivated by the response, Bella decided to do more. She took the lead designing and ordering 130 "Got Consent?" shirts and 200 wristbands, a project financed through a combination of students chipping in $10, money from Bella's family, and help from SART, the local rape crisis center. In the fall, several students marched with Bella in the homecoming parade with signs reading "'No' Doesn't Mean 'Keep Trying.'" She and others have passed out information about Title IX at school, which they got from the website for Know Your IX, an activist group started by college students. In the fall 2016 semester, the Survivor's Circle started coming together.
Bella at home in Ashland, Oregon.
Courtesy of Jenn
Then, on Dec. 5, 2016, 17-year-old Emily came forward.
The high school junior had recently been sent a screenshot of Facebook chats from the male student she'd accused of sexually assaulting her. In the chats, he singled out Emily because she "reported me to the cops for trying to fuck her while she was high."
"Easiest way to get pussy haha," the male student, who was a junior, wrote. "Just get them drunk or high enough and they won't do anything. It's not as good if they pass out, but it's still pussy." He added that the school won't do anything if girls make a report and the cops do not care. "Worked for me with a ton of girls," he said.
Emily had left Ashland High School about a year earlier for medical reasons and earned her GED, but she was still furious over how the school had handled her case. Emily told BuzzFeed News that she reported the student in October 2015 to two school officials, but neither she nor her mom had heard from the school after that. And on Dec. 5, she woke up and decided to go public.
"I just cracked. I knew this guy was still in school."
"I just cracked. I knew this guy was still in school," Emily told BuzzFeed News. "I couldn't allow that to happen. I needed to change something."
Emily posted the screenshot of the boy's comments on Facebook and wrote that he had tried to touch her "in a very inappropriate way" when she was "way too intoxicated" in 2015, but the school hadn't taken action when she reported him. Her post was shared hundreds of times, though Facebook took it down within a day after someone reported it. Still, word spread all over town, and several girls reached out to Emily to talk about their own experiences. At least one more girl posted on Facebook that the same student from that screenshot had sexually assaulted her too. The school put out a statement the next day telling the community that it takes sexual assault reports seriously and that administrators and police were looking into the case. Eight administrators took part in a Title IX training session at the end of that week.
The students were pissed.
"When you see proof that someone who goes to school with you, who you see every day, has done something so awful and talks so awful about women, I think that really affects people," said Nicole, an Ashland sophomore who works with Bella on activism at school. "Then they really started believing what we were saying."
Students at the sit-in at the Ashland School District office, protesting how schools in town handle sexual assault cases.
Courtesy of Jenn
Bella quickly helped organize a sit-in at the district's offices a week later that drew more than 60 students, according to local reports. Community members showed up at the school board meeting that night, Dec. 12, and insisted the district was out of compliance with Title IX. Bella and her family also worked with Moen to organize a community forum that week, held at SOU, where parents demanded answers after they watched a video of Bella and several other girls speaking about how the school had handled their sexual assault cases. That same day, the school district put up a webpage about Title IX — a seemingly small gesture, but a concrete step since many students and parents said that until that point they didn't know anything about Title IX, or how the school deals with sexual assault.
"It's not enough to bury a flier in the back of a folder on a Back To School Night," said Brodsky, who's now at the National Women's Law Center. "There needs to be active conversation and the school really needs to highlight the availability of this policy."
The Ashland superintendent, Suzanne Cusick, owned up to this in a Dec. 15, 2016, statement on Facebook aimed at concerned parents, and pledged that staff would be reviewing documents issued by the Obama administration about a school's Title IX obligations, and then work to make sure students and parents understood their rights as well.
"It is clear as a result of this recent situation that we can and must improve in this area," Cusick said. "High school staff are currently working on a guide written in student friendly language. Once completed that guide will be widely disseminated and posted on the web."
Ashland Senior High School
Janet Eastman / The Oregonian / Oregon Live
High schools, like colleges, are required by law to tell students about their Title IX rights and about where they can file complaints about sexual misconduct. Carrie Bettinger-López, a former White House adviser on violence against women, told BuzzFeed News that compared to colleges and universities, "the problems in many ways were far more complex and diffuse and just complicated in the K-12 space." There are local political issues surrounding sex education in schools, and states have different laws on consent and on reporting obligations. Advice given to high schoolers can't be the same as that given to kindergarteners. According to Bettinger-López, some insiders worry that merely talking about teenagers and sex could look like the government condones it.
In September 2016, the Obama White House and the US Department of Education put out a "toolkit" for school districts to set up policies dealing with sexual violence. Meanwhile, in response to pressure from activists, just over half of all states, including Oregon, have passed legislation requiring them to study or launch these efforts in K-12 schools, according to the National Conference of State Legislatures.
However, that doesn't mean that activists, administrators, and lawmakers are on the same page.
A panel of teens in Nevada asked the state this year to mandate that high schools teach students about laws governing sexual assault, revenge porn, and consent. The teens' proposed bill stalled, according to state Sen. Scott Hammond, a Republican from Las Vegas, because opponents like himself didn't want to put more burdens on teachers with limited time and training.
"I'm a former schoolteacher," Hammond told BuzzFeed News. "It's really hard every time you go back after a legislative session, and you say, 'OK, what other mandates do we have now?'"
"High schoolers are ready for these conversations. Students experience violence whether we acknowledge it or not."